I've never given the moon too much thought. I mean, I know it used to affect my period (although I didn't know how), and the tides. I knew sometimes it looked full, sometimes it was invisible, sometimes it was HUGE and as though I could walk right up to it, and other times it was a little sliver.
Last night's Blood Moon changed all that.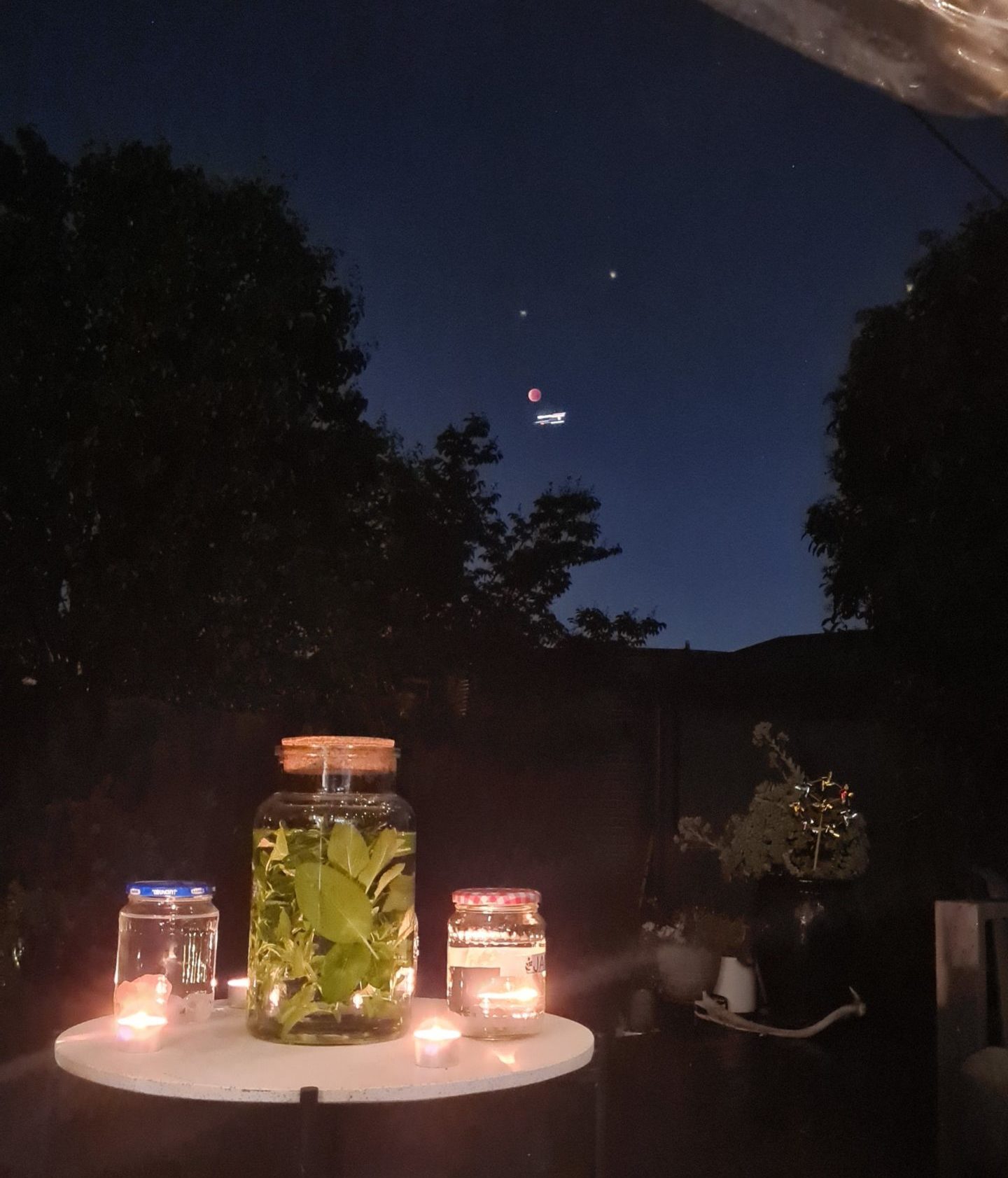 I made Moon Tea, Crystal Water, read an oracle card and set intentions with my husband. Then I sat under the moon and watched it play peek-a-boo until it graced us in her full pink-hued glory.
Moon Tea
You could make Moon Tea on any night, but the water will be especially potent if left out under a full moon. Then if it's Blood Moon well, it'll be supercharged. Moon Tea enhances emotions around this time, as well as intentions.
Directions:
Fill a jar* with slightly warm drinking water (not hot or you'll burn the herbs).
Pick any herbs you have in your garden, or grab some from a neighbour or market. I kept it simple – mint and a few sage leaves.
Think about your intentions – what do you hope to bring into your life?
Place a lid or cloth over the jar and leave out under the full moon
Drink your moon water the next day.
* I opted for a large jar so I could share the water.
Crystal Water
I don't have too many crystals, but I do have a favourite rose quartz that I used last night, as well as a few other smaller pieces I'll use later for group rituals.
The directions as the same as Moon Water. Simply pop your crystals in the jar, set your intentions, if you have one, light a black candle (black candles intensify magic and intentions) and allow it to burn out. I use a small candle for magic as I don't want to waste a large candle.
Once the water is powered by the crystal and the Full Moon, you can use it for so many reasons. I plan to rinse my hair with the water when I was it next.